The NBA's premier high-riser dunks his clothes and his apprehension for ESPN The Magazine's Body Issue 2011.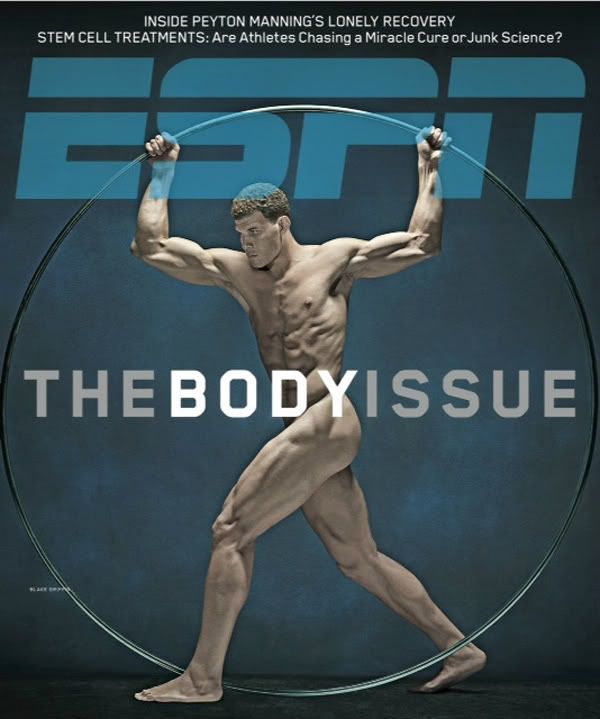 Yeah folks…it's that time of the year again. Time for another raw and revealing installment of ESPN The Magazine's Body Issue. This year, among the athletes that signed up to strip down include L.A. Clippers sensation BLAKE GRIFFIN, NY Mets shortstop JOSE REYES, Women's Pro Soccer star HOPE SOLO, UFC Champion JON JONES, St. Louis Rams RB STEVEN JACKSON, WNBA star SYLVIA FOWLES and Olympic Gold Medalist NATASHA HASTINGS…
Steven Jackson may want to get his face off the camera and pay attention to that cliff he's approaching before he goes overboard…oh, my bad…dude has already gone off the deep end without an ounce of clothing on! Body glistenin' and ish…
Clockwise (LtoR): Blake Griffin goes airborne in his born-day gear; Natasha Hastings may be in the starting blocks but her brick house is already built; Jon Jones displays his weapon-like leg kick…his arm is strategically located; Sylvia Fowles is baked in desert sun and bronze as she has nothing on to push-up; Steven Jackson looks like he's straight out of a comic book 4real, 4real; Griffin goes hoopin' without a net; Hope Solo adds some real kick to watering the grass; Jose Reyes reveals a short yet muscularly toned frame…who knew??
All kidding aside, if you're male or female, young or old, you know you want the physique of these top sports performers. Who the hell wouldn't??
Now that's a body of work right there.