Popularazzi: Green Bay Packers wideout Greg Jennings was hit up constantly by fans seeking his hancock in Indy.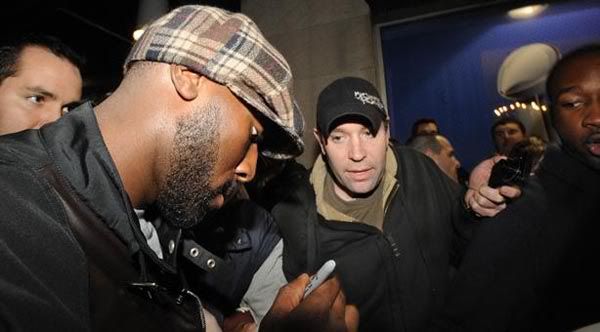 No doubt it's going down in Indy, Indiana this Super Bowl weekend with a slew of parties and events taking place, including ESPN's Next party, which was attended by bigwigs CAM NEWTON, DREW BREES, SHAQUILLE O'NEAL and JERRY RICE (to name a few) while red hot rapper DRAKE provided the musical beats on stage…
Other events on the Hoosier party-hearty dockett included the Super Bowl Gospel Celebration at Clowes Hall, VH-1′s Super Bowl XLVI Fan Jam, EA Sports Madden Bowl XVIII and GQ and Playboy SB parties as well.
Rows (LtoR): Carolina Cam goes magenta with sweater, tie and dark shades look at ESPN party; Bow-tie and suspenders Brandon Marshall shows up for Madden Bowl looking like a man on a mission; QBs Tim Tebow and Drew Brees took home Madden Bowl honors; Texans RB Arian Foster showed up for Playboy SB party sporting the color of money; Fox analyst Michael Strahan gives an interview at Next party; Marcellus Wiley and Takeo Spikes play SportsCenter hosts at ESPN event; Philly fullback Leonard Weaver and Saints safety Malcolm Jenkins on the reds at Gospel Celebration; Fully clothed Shaq O'Neal and gal pal Hoopz Alexander hit up Next party; NFL legend Jerry Rice answers questions at Next party; Naturally Ne-Yo would punch a ticket to the Playboy jumpoff right? Right! B.o.B gets the crowd amped at VH-1 Fan Jam; NY Giants owner Steve Tisch meets LL Cool J at GQ Super Bowl party…no question who L would love to win the big game; Hometown Colt Gary Brackett hits the reds at Gospel Celebration; B.o.B excites the crowd at Fan Jam; Regal-looking ex-NFLer Eddie George poses for a shot while Drake spits a trademark verse at Next Party.