Three Kings: Chris Bosh, Dwyane Wade and LeBron James are now legitimately the talk of the basketball world.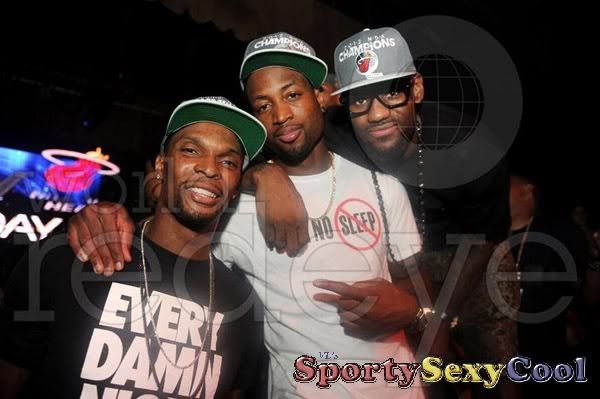 Oh you know now that the Miami Heat have sealed the deal and won the NBA championship, hellacious Hollywoodness is sure to follow! Such was the case early Friday as LEBRON JAMES, DWYANE WADE, CHRIS BOSH, SHANE BATTIER, JUWAN HOWARD and NORRIS COLE showed up at Club Liv in South Beach to celebrate their title win over Oklahoma City…
Photos courtesy: World Red Eye
Accompanying the Heatles on their championship celebration were their Heatlettes Savannah Brinson, Gabrielle Union and Adrienne Bosh. Miami Heat owner Micky Arison and head coach Erik Spoelstra were on hand as well.
Wade and James were in pure party mode singing and dancing on stage while shooting CO2 guns into the crowd as "We Are The Champions" blared from the loudspeakers. LeBron even rapped along with LMFAO wearing a "LeBron Vampire" T-shirt…
Well Bron Bron did suck the life out of the Thunder in four consecutive games. Dude earned them fangs!
Man you think this group was "Hollywood As Hell" before winning the title. Just wait until the parade.
The Heat is on. 4real, 4real.