Kobe recognizes how unique Gasol's skill set is to winning another title, which is why wants him back with Lakers.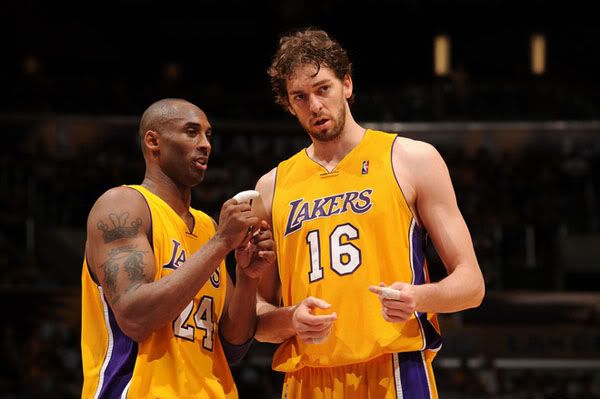 Probably because he is now an elder statesman in the NBA, KOBE BRYANT has become more opinionated than he's ever been. Calling out the 1992 Dream Team and dishing on NBA commissioner David Stern for his desire at put an age cap on Olympic participation of NBA players were just a few soundbites spewed this summer by the Black Mamba. Yet Kobe's latest uttering about the trade status of Lakers teammate PAU GASOL may be more defiant than all the rest.
During a Team USA media appearance in Barcelona, Spain, Bryant boldly stated: "As long as I'm there (in L.A.), he's (Pau's) going to be there."
Well alrighty then. Gasol will be competing against Team USA as a member of the Spanish national team.
Bryant continues to stick up for his Spaniard teammate even after a sub par 2012 season where questions of Gasol's consistency and toughness were once again called into question. But why?
It's quite simple really. Because Kobe recognizes that Gasol is the most skilled big man he's played with (and won titles with) since Shaquille O'Neal. The tremendous chemistry and comradery that Kobe and Pau share is unprecedented. I doubt very seriously that Kobe wants to return to the days of Kwame Brown anytime soon ever. Even despite Gasol's toughness issues.
But the bigger question is, is the Lakers' front office listening? Obviously as one of the greatest Lakers to ever play, Bryant's word holds some weight but I doubt if Lakers GM Mitch Kupchak is going to let No. 24 dictate what he does with the Gasol trade talks.
With Dwight Howard possibly on the horizon, maybe Kobe envisions a Laker twin tower line-up to the 12th power with Gasol's rare skill set complimenting Howard's in place of Andrew Bynum.
I'm certain Bryant envisions a sixth 'chip in that scenario as well.