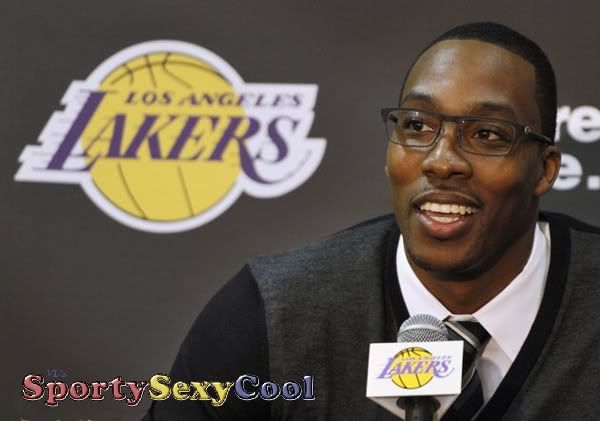 DWIGHT HOWARD made his Lakers debut Friday as a member of the purple & gold, giving an interesting recall of the conversation that he, the Clown Prince of the NBA, shared with new teammate KOBE BRYANT…

Dwight was estatic as he tried on his Lakers jersey for the first time. Howard will have to quickly grasp the stark reality that with great talent comes great responsibility in L.A.
Howard was quite the happy camper at his first Lakers presser, in such a good mood that he even forgave several press members in the audience for their vicious articles about him "quitting" on the Orlando Magic.
In addition to Kobe welcoming him to L.A., Dwight received congratulatory tweets from Shaq, Pau Gasol and Magic Johnson:
But Magic had another cautionary tweet for Dwight that the playful big man ought to take heed of:
Funny time is fine but winning time in Los Angeles is serious. Howard will need to find that balance because Superman is now in a Metropolis as big and as demanding as he is.