Harvin close: Percy's imminent addition to the Seattle offense may be the final nail to a Seattle Super Bowl bid.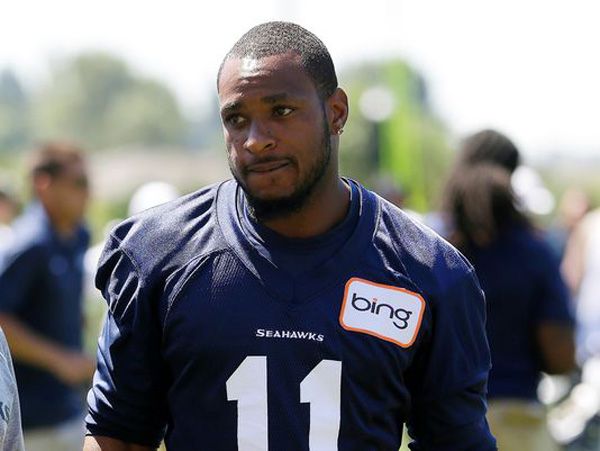 If you think the Seattle Seahawks (6-1) are a very good football team after Thursday night's 34-22 beatdown of CARSON PALMER and the Arizona Cardinals, guess what: they're about to get even better. That's because heralded off season acquisition PERCY HARVIN is on the road to making his Seahawks debut.
According to NFL Media insider Ian Rapoport, Harvin, who has been rehabbing from August hip surgery, is scheduled to begin practice next week, a team source revealed.
Birds of Prey: Harvin will eventually join a plethora of playmakers in Seattle including ever-elusive QB Russell Wilson, 'Beastmode' bull runner Marshawn Lynch, clutch-catch receiver Golden Tate and impeccable shutdown corner Richard Sherman on defense.
Sources say Harvin's recovery has been so rapid that the dynamic wide receiver is aiming for a Week 8 Monday Night match up against the Rams to make his debut.
However, the Seahawks appear to be leaning towards a more conservative Dec 2 return for Harvin (after the team's bye) versus the Saints, allowing Harvin more practice time to get up to speed with Russell Wilson and the offense.
My guess is Harvin's return will fall somewhere between Week 8 and 11.
Doesn't really matter though. Once Harvin returns, Seattle should be that much more fortified as a force in the NFC…and a clear and present Super Bowl favorite.
SOURCE: NFL.COM