Water works: Moreno literally empties the bucket full of emotion and passion when he reflects on his NFL journey. 

During the National Anthem of Sunday's Broncos-Chiefs game, Denver RB KNOWSHON MORENO was captured by CBS cameras literally gushing tears from his eyes…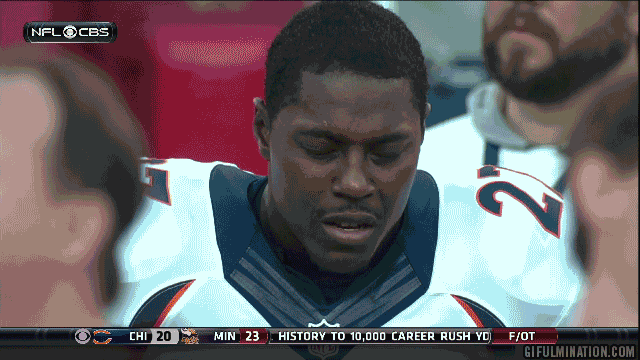 Of course, there's no crying in football but this wasn't Moreno simply boo-hooing with overwhelming patriotism. This was just Knowshon being Knowshon, overcome with passion and emotion (as he often does, his teammates say) while reflecting on his life's journey.
"I am just thinking about everything in general through your whole life, just balled up into one," Moreno said after the Broncos beat KC, 35-28. "Yeah, it helps me. Sometimes I don't even notice it, it just comes."
And it came down in gushes. When you consider that football is a highly emotional sport and then factor in the inauspicious path Moreno has taken as a pro to finally realize his potential in this league as a big time performer for the Broncos, then the young man's tears are greatly understood.
If the Broncos make it to the Super Bowl—even more win it—the NFL may have to consider issuing a flash-flood warning on Knowshon Moreno.
Talk about cry me a river.